Police seek suspects in McDonough home invasion | News
McDONOUGH, Ga. -- A Henry County family remains on edge as police hunt for the three masked gunmen who terrorized the mom, dad and their three daughters during a home invasion.
11Alive spoke with the parents, Connie and Jervice Wolfe, on Wednesday, and they said it was their nine year old daughter, their youngest, who managed to call Henry County police while the gunmen were still in the house.
On the phone with 911 she frantically asks her father what to say.  Her father can be heard telling her to tell the emergency operator that they are tied up.  She then repeats those words illustrating a disturbing situation that this family was now forced to endure.
The three armed home invaders had kicked in the back door of the family's home in McDonough at about 4 a.m. wearing dark clothing and masks.
The parents and the children were all asleep.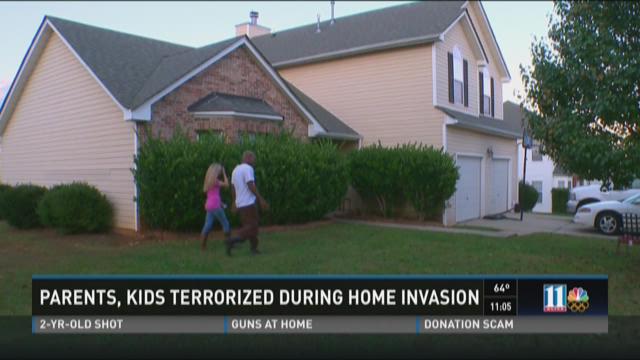 Two of the suspects came into the parents' bedroom.  The third rounded up their young daughters, ages 9, 11 and 13.
"Lights flipped on; all of a sudden there's two guys standing there and 'U.S. Marshals. We're after your money and your drugs'," Connie Wolfe said. 
But there are no drugs there. The Wolfes think the home invaders got the wrong home. But they took their jewelry and cash anyway.
They also tied up Connie, Jervice and the two older girls. The twist ties the attackers used were so tight around Jervice's neck he could barely breathe.
"They was like, give it up, big man, give it up," he said.
They were threatening to shoot them if they didn't tell them where the drugs were.
"And then you're supposed to protect your family, but you only have one or two seconds before they're in your face," Jervice said.
They said the three gunmen went downstairs and that's when the nine-year-old, who was the only one the intruders did not tie up, called 911.
The operator asked the young girl if the men had guns and if they were still there.
The answer to both questions was yes.
Henry County Police Captain Joey Smith said police are canvassing the neighborhood hoping someone saw something - maybe the men running or driving away.
"It's very frightening - very scary," Smith said. "Of course, we don't want this in our community. We're going to use any resource possible to try to identify them as soon as possible."
Captain Smith said there have been no other home invasions in Henry County that have been anything like this one.
They're comparing notes with other agencies across Metro Atlanta, and asking anyone who might have a tip to call 911 or the Henry County Police Department at 770-288-8200, or 770-957-9121 after hours.