Police impersonator pulled gun on woman | News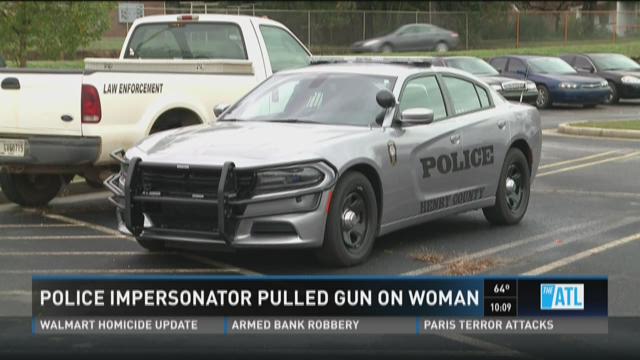 ELLENWOOD, Ga -- Henry County Police are looking for a man impersonating one of their own. They say he pulled a gun on a woman after pulling her over for a traffic stop.
Megan Kelly said everything seemed normal when she was pulled over. The man who came up to her car was wearing uniform. His car had flashing red and blue lights, and it said "Henry Co" on the side of his car, a black Charger.
"As soon as he came up to the car he told me that it was stolen so I laughed because obviously it wasn't stolen," Kelly said.
It wasn't stolen because it was her mother's car. She had just filled it up with gas on Panola Road in Ellenwood and the officer pulled her over when she pulled out of the gas station on Dudley Drive.
Kelly said she told the officer she would call her mother to verify the car was hers. "And when I reached for my phone, that's when I hear the gun come out of his holster," she said. "And he had the gun like pointed at me."
She said the officer tried to open her door, but it was locked and he demanded she get out of the car. "And I said no, I'm not getting out of the car, call your supervisor, I'll wait," she said.
Kelly said the man walked back to his car and sat for several minutes before backing up and pulling away. The description of the vehicle he was driving does not match Henry County Police patrol cars. Captain Joey Smith said some officer drive Chargers but they are silver and the flashing lights are only blue.
Capt. Smith said people should familiarize themselves with what their local police cars look like. "Just use good judgement," he said. "If it doesn't feel right call 911, try to verify that it is an actual officer."
Megan Kelly said nothing seemed out of place and it wasn't until she got home and her mother called police, that she realized the officer was an impostor.
Now she thinks about 'what if?' "That's the only thing that honestly scares me the most," she said. "I have a son, what if I didn't see him again? What if my car door was unlocked?"
Capt. Smith said Henry County Police are checking with other police agencies to see if they have similar cases to this one. In the meantime they're asking anyone with information about the case to call Crime Stoppers Atlanta at 404-577-TIPS (8477).
You can follow Kevin on Twitter @krowson11alive and like him on Facebook