Laila Daniel death | DFCS: Caseworker 'missed multiple critical red flags' | News
Title (Max 100 Characters)
Laila Daniel death | DFCS: Caseworker 'missed multiple critical red flags'
LOCUST GROVE, Ga. -- 
Police say 2-year-old Laila Daniel

was killed by her foster mother

, Jennifer Rosenbaum, but the Division of Family and Children Services admits two of its employees played a role.
Earlier this month, it dismissed case manager Samantha White and her supervisor Tamara Warner for violating state policy guidelines. There is no indication that either intentionally wanted to harm the child, but by not doing their jobs as expected, they may have allowed months of abuse to go unnoticed.

According to DFCS records
, Daniel spent time in three official foster homes before she died. Nastassja Colbert says she was the first.
Colbert says she likes to teach the children sign language and had taught Laila a few words, such as eat. Colbert says Laila loved food and believes she was trying to communicate her hunger in a photo taken days before she died of starvation and abuse.
PHOTOS: Laila Marie Daniel
LISTEN: 911 call released in Henry County child death
DFCS also requires young children to be undressed and checked for injuries every time the caseworker visits. Colbert said that never happened at her house.
Investigators say it didn't happen either when the girls went into the Rosenbaum's care.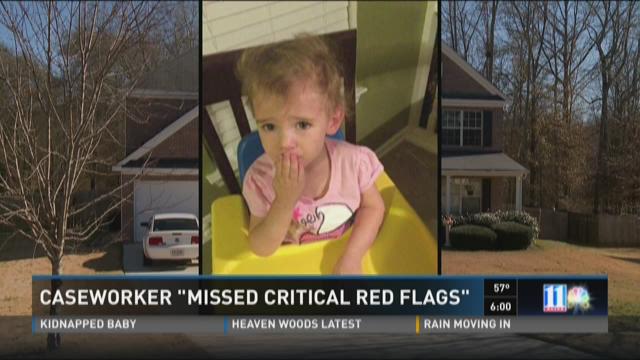 In a DFCS staffing summary
, a report prepared after a serious injury or child's death, investigators said Rosenbaum claimed to have never bathed Laila. But in another report, when Rosenbaum tries to explain an injury on the girl's head, she tells the case worker Laila hit her head on the tub faucet when she left to grab her cell phone. Despite the discrepancy, the case worker doesn't question the matter further, nor even express concerns the child was left in a tub of water alone.
The reports detail other missed opportunities to fact check the Rosenbaums concluding the case worker repeatedly "failed to adequately assess impending and present dangers" missing "multiple critical red flags."
11Alive wanted to know if the office was understaffed and workers bearing high case loads. According to the disciplinary action report, White had an average of 14 cases. That's below the state goal of 15 and within national guidelines.